District 112 FUNd Run and Family Walk — 10 Days. 1 Goal.
THANK YOU D112 COMMUNITY!
The 2020 virtual FUNd Run was a huge success. Thank you for supporting the students in North Shore School District 112.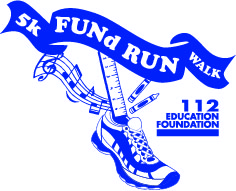 Proceeds from the FUNd Run provide need-based scholarship opportunities for District 112 students.
The need is greater than ever during the 2020-2021 school year. Scholarship funds are used to subsidize student participation in extracurricular activities including band and orchestra. Funds will also be used to purchase books and essential school supplies for students in need in the hybrid learning environment.
Participants will complete a 5K or 1-mile Family Walk between October 3 to October 12th on whatever course they choose (see the map below for the 2019 FUNd Run course). Be sure to post pictures of your family and tag us on social media (@112foundation) or email pictures to us. "I ran FUNd Run 2020" signs will be posted at all D112 schools for the perfect post-run photo op!
Suggested hashtags…
#ijustsignedupforFUNdRun2020
#virtualFUNdRun112
#FUNdrunningtogetherapart
#FUNdRun112
#TenDaysOneGoal
All participants will be entered into a raffle with the opportunity to win prizes from local businesses.
Check our sponsor page for businesses that donated.
At its heart, the FUNd Run is both a community event and a fundraiser. In a year when the anticipated need is higher than ever, the FUNd Run will not have a 2020 race giveaway. We recognize many participants look forward to the race swag and wear it proudly throughout the year. People registered for the event by WEDNESDAY, SEPTEMBER 30 may visit the FUNd Run Swag Give-A-Way and pick up some vintage FUNd Run giveaways from past years.
The Swag Give-A-Way will be held on October 2, 2pm to 6pm, or while supplies last. Location: Lincoln School (north parking lot), 771 Lincoln Ave W, HP. Please note: facemasks are required.
Questions: 112educationfoundation@gmail.com
Presenting Sponsor

 2019 FUNd Run 5K Course Map