District 112 FUNd Run and Family Walk
Due to concerns about COVID-19, the 2020 FUNd Run will be a virtual event.
The virtual race will run Saturday, October 3 to Monday, October 12
Details and registration coming soon.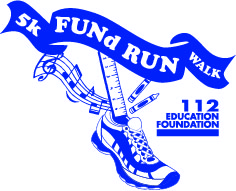 Proceeds from the FUNd Run provide need-based scholarship opportunities for District 112 students.
The need is greater than ever during the 2020-2021 school year. Scholarship funds are used to subsidize student participation in extracurricular activities including band and orchestra. Funds will also be used to purchase books and essential school supplies for students in need in the hybrid learning environment.
A special thank you to our 2020 sponsors
Presenting Sponsor

Marathoner ($2500-$4999)
10K Runner ($1000-$2499)
 The Sacks Family Foundation    
5K Runner ($500-$999)

 

 2020 FUNd Run 5K Course Map
Contact Us